Please Select Your Motorcycle
We will show you products that fit your motorcycle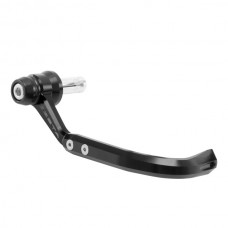 Zeta Racing Lever Guard - Black
(Typically ships in 2-3 days.)
Zeta Racing Lever Guard - Black
Zeta Racing Lever Guard - Black
Zeta Racing Lever Guard - Black
5
2
Brands
Zeta
Product Code:
ZS72-1000
Availability:
Typically ships in 2-3 days.
SPECIFICATIONS:
- Lever guard prevents accidental brake lever incidents at the race, track day or street riding.
- Made of A7009 T6 aluminum for durable construction, with length adjustable function to fit most bikes.
- Can also be used for clutch lever side by changing the part direction.
- Sold by unit quantity ( One side only )
- Can be used for handlebar with inner diameter from 13.5 mm to 19 mm.
Features adjustable length.
2009-2017 Aprilia Dorsoduro
2021+ Aprilia RS660
2019-2020 Aprilia RSV4
2015-2018 Aprilia RSV4
2009-2014 Aprilia RSV4
2021- Aprilia RSV4
2018-2020 Aprilia SR 50 R
2021+ Aprilia Tuono 660
2015-2020 Aprilia Tuono V4
2017-2020 BMW HP4 Race
2013-2018 BMW R 1200 GS
2015-2016 BMW R 1200 R / R 1200 RS
2014-2019 BMW R nineT
2014-2016 BMW R1200RT
2015-2018 BMW S1000RR
2009-2014 BMW S1000RR
2019-2022 BMW S1000RR / M1000RR
2015-2020 BMW S1000XR
2020 Brixton Cromwell 250
2020 Brixton Felsberg 250
2018-2019 Brixton Glanville 250
2019 Brixton Saxby 250
2002-2007 Buell XB9R / XB12R Firebolt
2020-2024 Ducati Panigale V2
2007-2009 Ducati 1098
2009-2014 Ducati 1198
2008-2013 Ducati 848
2008-2016 Ducati Desmodesdici
2007-2012 Ducati Hypermotard
2012-2014 Ducati Panigale 1199
2015-2018 Ducati Panigale 1299
2013-2015 Ducati Panigale 899
2016-2018 Ducati Panigale 959
2018-2021 Ducati Panigale V4 / V4 R / Superleggera
2022-2023 Ducati Panigale V4 / V4 R / Superleggera
2015-2021 Ducati Scrambler Full Throttle
2015-2021 Ducati Scrambler Icon
2015-2021 Ducati Scrambler Sixty2
2020-2021 Ducati Streetfighter V4
2019-2020 Honda CBR 500R
2017-19 Honda CBR1000RR
2006-2007 Honda CBR1000RR
2004-2005 Honda CBR1000RR
2012-2016 Honda CBR1000RR
2008-2011 Honda CBR1000RR
2020-2023 Honda CBR1000RR-R
2005-2006 Honda CBR600RR
2009-2020 Honda CBR600RR
2003-2004 Honda CBR600RR
2007-2008 Honda CBR600RR
2020 Honda CMX 500 Rebel
2020-2021 CRF1100L Africa Twin
2014-2015 Honda Grom
2021-2022 Honda Grom
2017-2020 Honda Grom MSX125
2016-2019 Honda Grom SF
2019+ Honda Monkey 125
2000-2006 Honda RC51 SP1/SP2
2020- Honda SH 125/150
2019-2020 Husqvarna 701 Supermoto
2020- Husqvarna FE 450
2015-2018 Kawasaki Ninja H2 / SX / SE
2020 Kawasaki KX450F
2011-2019 Kawasaki Ninja 1000
1988-2007 Kawasaki Ninja 250
2008-2012 Kawasaki Ninja 250R
2013-2017 Kawasaki Ninja 300R
2018-2023 Kawasaki Ninja 400
2017-2019 Kawasaki Ninja 650
2012-2016 Kawasaki Ninja 650
2006-2008 Kawasaki Ninja 650R
2009-2011 Kawasaki Ninja 650R
2014-2016 Kawasaki Vulcan S 650
2017-2020 Kawasaki Vulcan S 650 / Cafe
2020-2021 Kawasaki Z H2
2011-2018 Kawasaki Z1000
2017-2018 Kawasaki Z125 Pro
2017-2020 Kawasaki Z900RS
2011-2015 Kawasaki Ninja ZX-10R
2008-2010 Kawasaki Ninja ZX-10R
2004-2005 Kawasaki Ninja ZX-10R
2006-2007 Kawasaki Ninja ZX-10R
2021-23 Kawasaki ZX-10R / ZX-10RR
2016-2020 Kawasaki Ninja ZX-10R / ZX-10RR
2006-2011 Kawasaki Ninja ZX-14
2012-2018 Kawasaki Ninja ZX-14R
2023-2024 Kawasaki ZX-4RR
2005-2006 Kawasaki Ninja ZX-6R
2007-2008 Kawasaki Ninja ZX-6R
1998-2002 Kawasaki ZX-6R
2013-2018 Kawasaki Ninja ZX-6R
2019-2023 Kawasaki Ninja ZX-6R
2009-2012 Kawasaki Ninja ZX-6R
2020 KTM 1290 SuperDuke R
2020 KTM 390 Adventure
2019-2022 KTM 690 SMC R
2020-2023 KTM 890 Duke R
2020+ KTM 890 SuperDuke R
2013-2019 KTM Duke 390
2020 KTM EXC 450 F
2014-2020 KTM RC390
2008-2016 KTM RC8
2020- KTM SX 125
2017-2020 Moto Guzzi V7 Cafe Classic
2009-2012 Moto Guzzi V7 Cafe Classic
2017-2020 Moto Guzzi V7 III
2012-2018 MV Agusta Brutale 675
2015-2018 MV Agusta Brutale 800
2014-2021 MV Agusta Dragster 800
2011-2018 MV Agusta F3 675
2011-2018 MV Agusta F3 800
1999-2004 MV Agusta F4 750
2013-2016 MV Agusta Rivale
2015-2016 MV Agusta Stradale 800
2019-2021 MV Agusta Superveloce
All Offroad, Supermoto, Enduro or Motocross
2001-2002 Suzuki GSX-R1000
2017-2023 Suzuki GSX-R1000 / 1000R
2005-2006 Suzuki GSX-R1000
2007-2008 Suzuki GSX-R1000
2012-2016 Suzuki GSX-R1000
2003-2004 Suzuki GSX-R1000
2009-2012 Suzuki GSX-R1000
2006-2007 Suzuki GSX-R600
2001-2003 Suzuki GSX-R600
2011-2023 Suzuki GSX-R600
2004-2005 Suzuki GSX-R600
2008-2010 Suzuki GSX-R600
2008-2010 Suzuki GSX-R750
2011-2023 Suzuki GSX-R750
2006-2007 Suzuki GSX-R750
2004-2005 Suzuki GSX-R750
2017-2020 GSX-S / GSX-R 125
2015-2020 Suzuki GSX-S 1000
2015-2020 Suzuki GSX-S 750
1999-2007 Suzuki Hayabusa
2022-2023 Suzuki Hayabusa
2008-2018 Suzuki Hayabusa
2019-2020 Suzuki Katana
1999-2002 Suzuki SV650 / S
2003-2012 Suzuki SV650 / S
2017-2019 Suzuki SV650
1999-2003 Suzuki TL1000R
2006-2012 Triumph Daytona 675 / 675R
2013-2018 Triumph Daytona 675 / 675R
2011-2015 Triumph Speed Triple
2016-2018 Triumph Speed Triple
2013-2016 Triumph Street Triple 675
2007-2012 Triumph Street Triple 675
2017-2018 Triumph Street Triple 765
2020+ Triumph Street Triple 765 RS
2014-2021 Yamaha FZ-07 / MT07
2017-2019 Yamaha FZ-09 / MT-09
2013-2016 Yamaha FZ-09 / MT-09
2016-2022 Yamaha FZ-10 / MT-10
2006-2012 Yamaha FZ1
2017-2020 Yamaha SCR 950
2019-2020 Yamaha Tenere 700
2020-2021 Yamaha Tracer 700
2016-2019 Yamaha XSR700
2016-2019 Yamaha XSR900
2014-2016 Yamaha XV 950 R
2020-2021 Yamaha YZ450F
2020-2023 Yamaha YZF-R1
2000-2001 Yamaha YZF-R1
2002-2003 Yamaha YZF-R1
2007-2008 Yamaha YZF-R1
2009-2014 Yamaha YZF-R1
2004-2006 Yamaha YZF-R1
1998-1999 Yamaha YZF-R1
2015-2019 Yamaha YZF-R1
2015-2020 Yamaha YZF-R3
2003-2005 Yamaha YZF-R6
1998-2002 Yamaha YZF-R6
2017-2020 Yamaha YZF-R6
2006-2007 Yamaha YZF-R6
2008-2016 Yamaha YZF-R6
2020-2023 Yamaha YZF-R7
2000 Zonkador SuperGP