Please Select Your Motorcycle
We will show you products that fit your motorcycle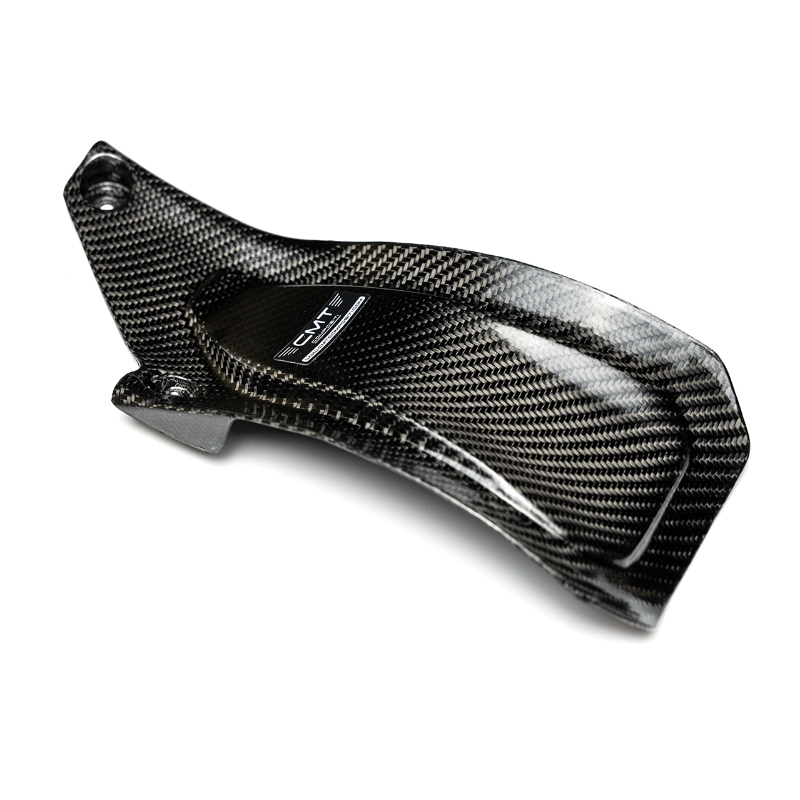 CMT Compositi Carbon Fiber Upper Rear Shock Guard for KTM SX-F, EXC-F, SX, XCF-W, GAS GAS, Husqvarna Models
(In Stock)
CMT Compositi Carbon Fiber Upper Rear Shock Guard for KTM SX-F, EXC-F, SX, XCF-W, GAS GAS, Husqvarna Models
CMT Compositi Carbon Fiber Upper Rear Shock Guard for KTM SX-F, EXC-F, SX, XCF-W, GAS GAS, Husqvarna Models
This high quality of the carbon rear shock guard designed in prepreg carbon. for the KTM EXC-f 500 (US - USA MODEL) 2020 - 2021 - 2022 - 2023 models it is guaranteed by the autoclave polymerization process with which each individual product is processed.

Its main function is to protect the rear shock absorber.

All CMT COMPOSITI pieces are hand-finished and obtain their characteristic shine thanks to the absolute perfection of the molds used in the production phase and to a complex resin polishing process.
100% quality and endurance.
Weight: 30g
Fitment:
• GAS GAS MC 450 F (2021 - 2023)
• GAS GAS MC 250 F (2021 - 2023)
• GAS GAS MC 125 (2021 - 2023)
• GAS GAS EX 450 F (2021 - 2023)
• GAS GAS EX 350 F (2021 - 2023)
• GAS GAS EX 300 (2021 - 2023)
• GAS GAS EX 250 F (2021 - 2023)
• GAS GAS EC 350 F (2021 - 2023)
• GAS GAS EC 300 (2021 - 2023)
• GAS GAS EC 250 F (2021 - 2023)
• GAS GAS EC 250 (2021 - 2023)
• Husqvarna TX 300 i (2019 - 2023)
• Husqvarna TE 300 i (2020 - 2023)
• Husqvarna TE 250 i (2020 - 2023)
• Husqvarna TE 150 i (2020 - 2023)
• Husqvarna TC 250 (2019 - 2022)
• Husqvarna TC 125 (2019 - 2022)
• Husqvarna FE 501 S (2020 - 2023)
• Husqvarna FE 501 (2020 - 2023)
• Husqvarna FE 450 (2020 - 2023)
• Husqvarna FE 350 S (2020 - 2023)
• Husqvarna FE 350 (2020 - 2023)
• Husqvarna FE 250 (2020 - 2023)
• Husqvarna FC 450 (2019 - 2022)
• Husqvarna FC 350 (2019 - 2022)
• Husqvarna FC 250 (2019 - 2022)
• KTM XCF-W 500 (US - USA MODEL) (2020 - 2023)
• KTM XCF-W 500 (2020 - 2023)
• KTM XCF-W 350 (US - USA MODEL) (2020 - 2023)
• KTM XC-W TPI 300 SIX DAYS (US - USA MODEL) (2020 - 2023)
• KTM XC-W TPI 300 ERZBERGRODEO (US- USA MODEL) (2020 - 2023)
• KTM XC-W TPI 300 (US - USA MODEL) (2020 - 2023)
• KTM XC-W TPI 250 (US - USA MODEL) (2020 - 2023)
• KTM XC-W TPI 150 (US - USA MODEL) (2020 - 2023)
• KTM XC-F 450 (US - USA MODEL) (2020 - 2023)
• KTM XC-F 350 (US - USA MODEL) (2020 - 2023)
• KTM XC-F 250 (US - USA MODEL) (2020 - 2023)
• KTM XC TPI 300 (US - USA MODEL) (2020 - 2023)
• KTM XC TPI 250 (US - USA MODEL) (2020 - 2023)
• KTM SXF 450 (2019 - 2022)
• KTM SXF 350 (2019 - 2022)
• KTM SXF 250 (2019 - 2022)
• KTM SX 250 (2019 - 2022)
• KTM SX 150 (2019)
• KTM SX 125 (2019 - 2022)
• KTM EXC-f 500 SIX DAYS (US - USA MODEL) (2020 - 2023)
• KTM EXC-F 500 SIX DAYS (EU - EUROPE MODEL) (2020 - 2023)
• KTM EXC-f 500 (US - USA MODEL) (2020 - 2023)
• KTM EXC-f 500 (EU - EUROPE MODEL) (2020 - 2023)
• KTM EXC-F 450 SIX DAYS (EU - EUROPE MODEL) (2020 - 2023)
• KTM EXC-f 450 (EU - EUROPE MODEL) (2020 - 2023)
• KTM EXC-F 350 SIX DAYS (EU - EUROPE MODEL) (2020 - 2023)
• KTM EXC-f 350 (US - USA MODEL) (2020 - 2023)
• KTM EXC-f 350 (EU - EUROPE MODEL) (2020 - 2023)
• KTM EXC-F 250 SIX DAYS (EU - EUROPE MODEL) (2020 - 2023)
• KTM EXC-f 250 (EU - EUROPE MODEL) (2020 - 2023)
• KTM EXC TPI 300 SIX DAYS (EU - EUROPE MODEL) (2020 - 2023)
• KTM EXC TPI 300 ERZBERGRODEO (EU - EUROPE MODEL) (2020 - 2023)
• KTM EXC TPI 250 SIX DAYS (EU - EUROPE MODEL) (2020 - 2023)
• KTM EXC 300 TPI (EU - EUROPE MODEL) (2020 - 2023)
• KTM EXC 250 TPI (EU - EUROPE MODEL) (2020 - 2023)
• KTM EXC 150 TPI (EU - EUROPE MODEL) (2020 - 2023)
All Offroad, Supermoto, Enduro or Motocross