Please Select Your Motorcycle
We will show you products that fit your motorcycle
i2M Chrome PRO 5" Full Color LCD Dash & GPS Lap Timer - Plug & Play - Honda, Kawasaki, Suzuki, Yamaha, Ducati, MV Agusta, Aprilia, BMW
(Discontinued)
i2M Chrome PRO 5" Full Color LCD Dash & GPS Lap Timer - Plug & Play - Honda, Kawasaki, Suzuki, Yamaha, Ducati, MV Agusta, Aprilia, BMW
i2M Chrome PRO 2 5" Full Color LCD Dash & GPS Lap Timer - Plug & Play - Honda, Kawasaki, Suzuki, Yamaha, Ducati, MV Agusta, Aprilia, BMW
i2M Chrome PRO 5" Full Color LCD Dash & GPS Lap Timer - Plug & Play - Honda, Kawasaki, Suzuki, Yamaha, Ducati, MV Agusta, Aprilia, BMW
A full color, detailed and race-bred dash solution, with full data acquisition and a host of included sensors. Now with full plug & play functionality.
Chrome PRO: Designed for the most demanding rider
The Chrome PRO is the latest evolution of the Chrome family further extending the functionality of the Plus version. Designed for the most demanding riders / team, the PRO extends to 12 the number of channels available at 100Hz, it can manage the acquisition of heartbeat through bluetooth heart rate sensor, has a totally configurable can-bus for the 12 inputs, it can also connect to an internet hot spot to communicate with the ChromeLaps site managing the laptimes via internet in real time.
Thanks to the power of the Chrome PRO it is now possible to implement DDS (Danas Dynamic Settings) which enables the ability to change some parameters like map or traction control level corner by corner on every track! (now available on ZX10R 2016 and Yamaha R1 2015+).

The Chrome PRO also incorporates a 433Mhz receiver that allows it to interface with our supplied TPMS sensors. Additionally, you can order the PRO with a full carbon exterior case, reducing the weight of the instrument panel by 25%.
Thanks to the possibility to manage WiFi connections, Chrome PRO can connect to an internet hot spot to communicate with i2m's ChromeLaps site. The ChromeLaps site allows you to keep track of your days on the track, divided by sessions and then having your own personal transponder. Thanks to the public area of the site you can also see, on each circuit, the timing of who is sharing their data, offering a comparitive and competitive aspect. The Chrome PRO joins this feature to the possibility of having up to 12 analog 100Hz channels totally programmable as Can-Bus inputs (bringing to 33 total channels read), a 433 MHz receiver for TPMS sensors and the possibility to connect to a band heart rate monitor.
Thanks to the new internal software it is possible to connect to the Chrome PRO a bluetooth antenna so that it can be interfaced with a Polar WearLink heart rate sensor. A heart-shaped icon on the screen will indicate the connection made by beating the heart on the screen in proportion to your heartbeat. The data are then acquired in order to be re-examined later in order to plan a correct physical and targeted training based on personal physical effort.
The Chrome PRO integrates a 433MHz receiver that allows it to receive signals from i2m's TPMS sensors. It is therefore possible to always monitor the pressure of both tires and the temperature of the rim so as to check for example the correct heating with the electric blankets. Configurable alarms allow the RGB leds to be set to signal any anomalous pressure and temperature values. The values are then acquired so that they can be processed later. The Chrome PRO comes complete with two TPMS sensors with corresponding 90-degree valves that can be requested in 8.5 mm or 11.5 mm diameter.
Chrome dashboards also feature full trouble code and diagnostic functionality, just as the OEM dash does. (for most plug & play fitments)
Note: Motorcycles with dash-driven headlights may lose headlight functionality, this applies specifically to the BMW S1000RR and may apply to the RSV4 or other models. The BMW S1000RR I2M Chrome has only been developed with the HP ECU.
Features:
800x480 Graphic Color Display
High visibility even in direct sunlight
1GHz Processor, 1GB RAM and 16 GB internal memory
CNC Aluminum case (Optional: full carbon)
Fully customizable TRACK/STREED mode
10Hz Trajectory and GPS speed acquisition, 66 parallel channels
Chronograph whit 20 pre-loaded tracks, 500 laps per track
Track Auto identification, 3 splits
Best Lap, Ideal Lap, Best historical and daily values
20 high brightness fully customizable alarms
12 10-bits analog inputs, 2 speed inputs, 1 RPM, Can Bus
Water, fuel, oil inputs with dedicated alarms
Data download via USB key or via WiFi
16GB internal memory
Integrated Lambda sensor controller
Auto generated stoichiometric ratios table
Video input
Driver for external GoPro via WiFi
DDS (Danas Dynamic Settings)
433MHz recider for TPMS sensors
Connection to ChromeLaps website via external hotspot
Configurable Can-Bus inputs
Heart rate sensor management
The WiFi antenna for the Chrome Plus and PRO and the Bluetooth antenna for the PRO are sold separately.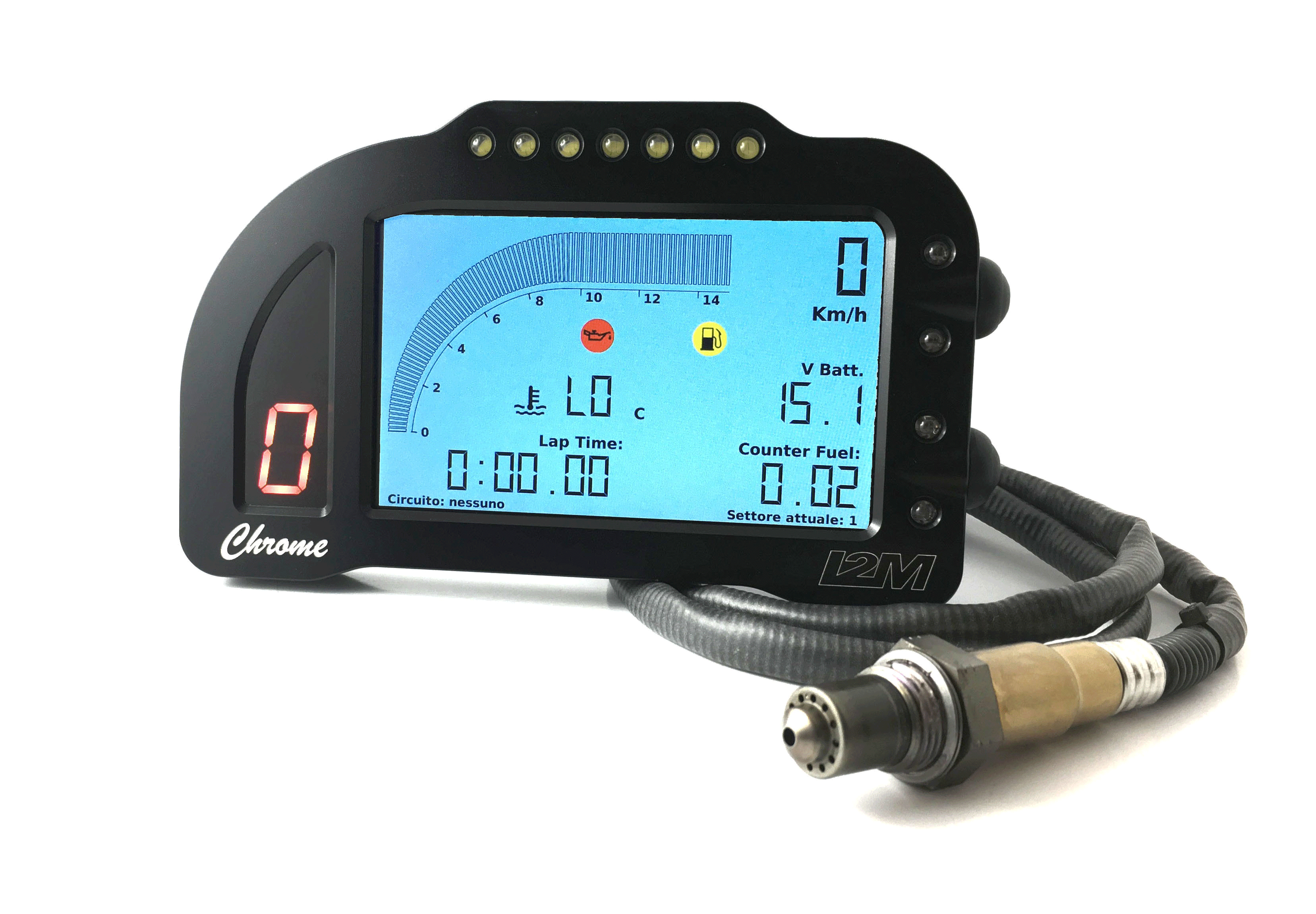 Plug and play wiring kits available for the following bikes:
Kawasaki: ZX6R 2007-2012, ZX10R 2008-2013, ZX10R ECU Racing, ZX10R 2016-2017
Yamaha: R1 2004-2008, R1 2015-2018, R6 2006-2012, R6 2017-2018
Suzuki: GSXR 1000 2007-2008, GSXR 1000 2009-2010, GSXR 1000 2017+
Honda: CBR 600RR 2007-2017, CBR 1000RR 2008-2012
BMW: S1000RR 2010-2012, S1000RR HP4, S1000RR HL (Not HP4 but with central unit HP4 mapped), S1000RR 2015-2017 (central unit HP)
Ducati: 1198/1198S, 899/1199, 1299
MV: F3 675
Aprilia: RSV4 APRC, RSV4 APRC ABS, RSV4 RF 2015-2016
Dash mounting kits available HERE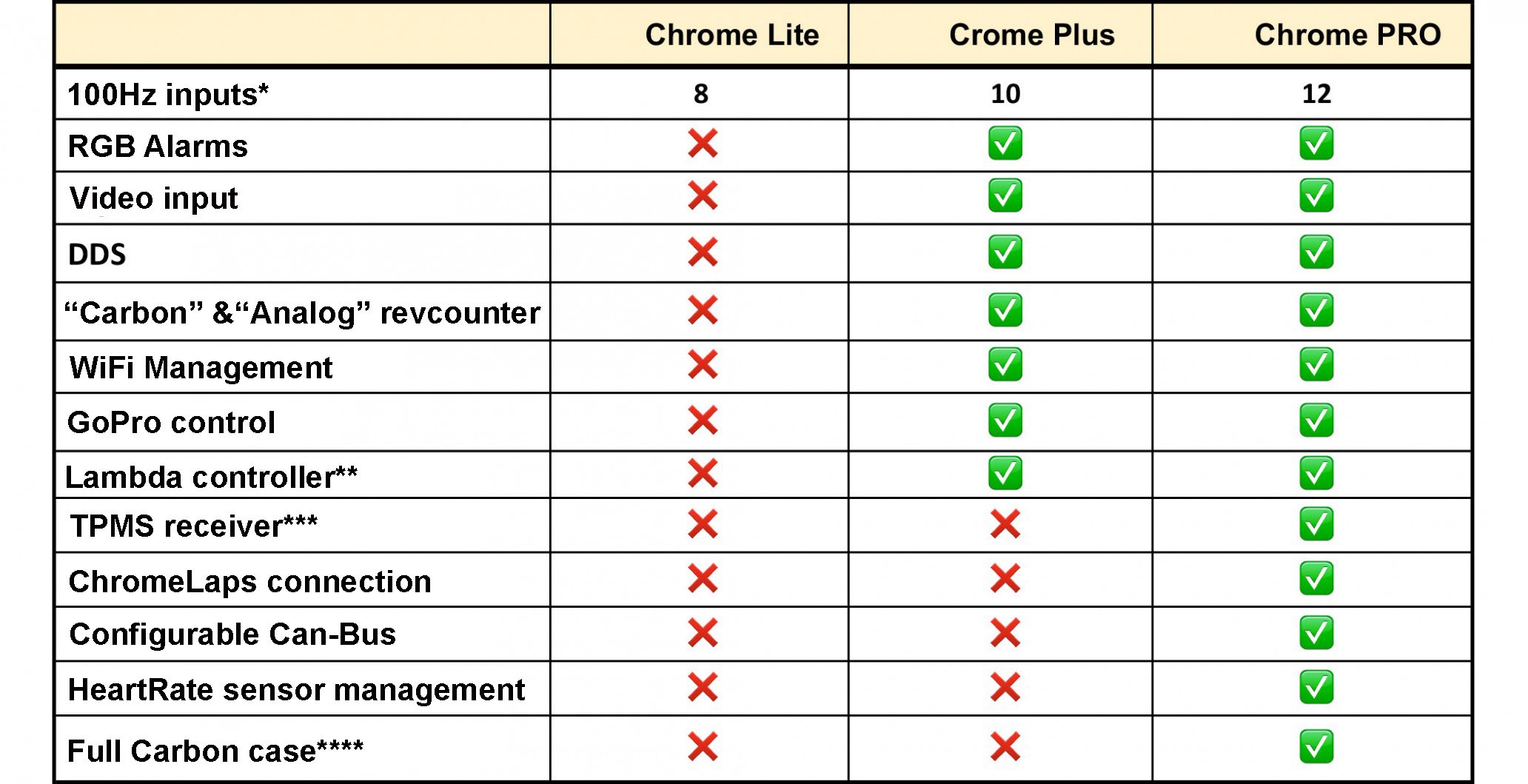 Downloads:
Additional information and updates
Dimensions:
Width: 7"
Height: 4"
Display Size: 5"
2009-2017 Aprilia Dorsoduro
2021+ Aprilia RS660
2015-2018 Aprilia RSV4
2019-2020 Aprilia RSV4
2009-2014 Aprilia RSV4
2018-2020 Aprilia SR 50 R
2021+ Aprilia Tuono 660
2015-2020 Aprilia Tuono V4
2017-2020 BMW HP4 Race
2013-2018 BMW R 1200 GS
2015-2016 BMW R 1200 R / R 1200 RS
2014-2019 BMW R nineT
2014-2016 BMW R1200RT
2015-2018 BMW S1000RR
2009-2014 BMW S1000RR
2019-2021 BMW S1000RR / M1000RR
2015-2020 BMW S1000XR
2020 Brixton Cromwell 250
2020 Brixton Felsberg 250
2018-2019 Brixton Glanville 250
2019 Brixton Saxby 250
2002-2007 Buell XB9R / XB12R Firebolt
2007-2009 Ducati 1098
2009-2014 Ducati 1198
2008-2013 Ducati 848
2008-2016 Ducati Desmodesdici
2007-2012 Ducati Hypermotard
2012-2014 Ducati Panigale 1199
2015-2018 Ducati Panigale 1299
2013-2015 Ducati Panigale 899
2016-2018 Ducati Panigale 959
2018-2021 Ducati Panigale V4 / V4 R / Superleggera
2015-2021 Ducati Scrambler Full Throttle
2015-2021 Ducati Scrambler Icon
2015-2021 Ducati Scrambler Sixty2
2020-2021 Ducati Streetfighter V4
2019-2020 Honda CBR 500R
2017-19 Honda CBR1000RR
2006-2007 Honda CBR1000RR
2004-2005 Honda CBR1000RR
2008-2011 Honda CBR1000RR
2012-2016 Honda CBR1000RR
2020-2021 Honda CBR1000RR
2003-2004 Honda CBR600RR
2009-2020 Honda CBR600RR
2005-2006 Honda CBR600RR
2007-2008 Honda CBR600RR
2020 Honda CMX 500 Rebel
2020-2021 CRF1100L Africa Twin
2014-2015 Honda Grom
2017-2020 Honda Grom MSX125
2016-2019 Honda Grom SF
2019+ Honda Monkey 125
2000-2006 Honda RC51 SP1/SP2
2020- Honda SH 125/150
2019-2020 Husqvarna 701 Supermoto
2020- Husqvarna FE 450
2015-2018 Kawasaki Ninja H2 / SX / SE
2020 Kawasaki KX450F
2011-2019 Kawasaki Ninja 1000
1988-2007 Kawasaki Ninja 250
2008-2012 Kawasaki Ninja 250R
2013-2017 Kawasaki Ninja 300R
2018-2020 Kawasaki Ninja 400
2006-2008 Kawasaki Ninja 650R
2009-2011 Kawasaki Ninja 650R
2012-2016 Kawasaki Ninja 650
2017-2019 Kawasaki Ninja 650
2014-2016 Kawasaki Vulcan S 650
2017-2020 Kawasaki Vulcan S 650 / Cafe
2020-2021 Kawasaki Z H2
2011-2018 Kawasaki Z1000
2017-2018 Kawasaki Z125 Pro
2017-2020 Kawasaki Z900RS
2011-2015 Kawasaki Ninja ZX-10R
2006-2007 Kawasaki Ninja ZX-10R
2004-2005 Kawasaki Ninja ZX-10R
2008-2010 Kawasaki Ninja ZX-10R
2016-2020 Kawasaki Ninja ZX-10R / ZX-10RR
2021 Kawasaki ZX-10R / ZX-10RR
2006-2011 Kawasaki Ninja ZX-14
2012-2018 Kawasaki Ninja ZX-14R
2005-2006 Kawasaki Ninja ZX-6R
2013-2018 Kawasaki Ninja ZX-6R
2007-2008 Kawasaki Ninja ZX-6R
2009-2012 Kawasaki Ninja ZX-6R
2019-2020 Kawasaki Ninja ZX-6R
1998-2002 Kawasaki ZX-6R
2020 KTM 1290 SuperDuke R
2020 KTM 390 Adventure
2019-2020 KTM 690 SMC R
2020 KTM 890 Duke R
2020 KTM 890 SuperDuke R
2013-2019 KTM Duke 390
2020 KTM EXC 450 F
2014-2020 KTM RC390
2008-2016 KTM RC8
2020- KTM SX 125
2009-2012 Moto Guzzi V7 Cafe Classic
2017-2020 Moto Guzzi V7 Cafe Classic
2017-2020 Moto Guzzi V7 III
2012-2018 MV Agusta Brutale 675
2015-2018 MV Agusta Brutale 800
2014-2021 MV Agusta Dragster 800
2011-2018 MV Agusta F3 675
2011-2018 MV Agusta F3 800
1999-2004 MV Agusta F4 750
2013-2016 MV Agusta Rivale
2015-2016 MV Agusta Stradale 800
2019-2021 MV Agusta Superveloce
All Offroad, Supermoto, Enduro or Motocross
2005-2006 Suzuki GSX-R1000
2001-2002 Suzuki GSX-R1000
2003-2004 Suzuki GSX-R1000
2007-2008 Suzuki GSX-R1000
2009-2012 Suzuki GSX-R1000
2012-2016 Suzuki GSX-R1000
2017-2020 Suzuki GSX-R1000 / 1000R
2006-2007 Suzuki GSX-R600
2011-2020 Suzuki GSX-R600
2004-2005 Suzuki GSX-R600
2001-2003 Suzuki GSX-R600
2008-2010 Suzuki GSX-R600
2008-2010 Suzuki GSX-R750
2004-2005 Suzuki GSX-R750
2006-2007 Suzuki GSX-R750
2011-2020 Suzuki GSX-R750
2017-2020 GSX-S / GSX-R 125
2015-2020 Suzuki GSX-S 1000
2015-2020 Suzuki GSX-S 750
1999-2007 Suzuki Hayabusa
2008-2018 Suzuki Hayabusa
2019-2020 Suzuki Katana
2017-2019 Suzuki SV650
2003-2012 Suzuki SV650 / S
1999-2002 Suzuki SV650 / S
1999-2003 Suzuki TL1000R
2006-2012 Triumph Daytona 675 / 675R
2013-2018 Triumph Daytona 675 / 675R
2016-2018 Triumph Speed Triple
2011-2015 Triumph Speed Triple
2013-2016 Triumph Street Triple 675
2007-2012 Triumph Street Triple 675
2017-2018 Triumph Street Triple 765
2020+ Triumph Street Triple 765 RS
2014-2021 Yamaha FZ-07 / MT07
2013-2016 Yamaha FZ-09 / MT-09
2017-2019 Yamaha FZ-09 / MT-09
2016-2020 Yamaha FZ-10 / MT-10
2006-2012 Yamaha FZ1
Yamaha R7
2017-2020 Yamaha SCR 950
2019-2020 Yamaha Tenere 700
2020-2021 Yamaha Tracer 700
2016-2019 Yamaha XSR700
2016-2019 Yamaha XSR900
2014-2016 Yamaha XV 950 R
2020-2021 Yamaha YZ450F
1998-1999 Yamaha YZF-R1
2015-2019 Yamaha YZF-R1
2000-2001 Yamaha YZF-R1
2020-2021 Yamaha YZF-R1
2002-2003 Yamaha YZF-R1
2004-2006 Yamaha YZF-R1
2007-2008 Yamaha YZF-R1
2009-2014 Yamaha YZF-R1
2015-2020 Yamaha YZF-R3
1998-2002 Yamaha YZF-R6
2006-2007 Yamaha YZF-R6
2008-2016 Yamaha YZF-R6
2017-2020 Yamaha YZF-R6
2003-2005 Yamaha YZF-R6
2000 Zonkador SuperGP