Please Select Your Motorcycle
We will show you products that fit your motorcycle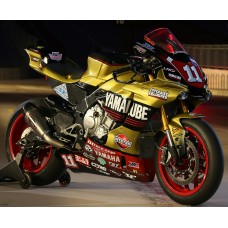 Lacomoto 2015-18 Yamaha YZF-R1 V3 Superbike Race Bodywork Kit
(In Stock)
Lacomoto 2015-18 Yamaha YZF-R1 V3 Superbike Race Bodywork Kit
Lacomoto 2015-18 Yamaha YZF-R1 V3 Superbike Race Bodywork Kit
Lacomoto 2015-18 Yamaha YZF-R1 V3 Superbike Race Bodywork Kit
5
2
Lacomoto's all new for 2017 race bodywork for the 2015-17 R1! The previous version of this kit has already enjoyed success in Europe and won the MotoAmerica Superstock 1000 championship and is now updated with feedback from top teams for a better than ever kit. Changes for 2017 include considerably reinforced upper, tail section and belly pan, as well as a new seat design that utilizes OEM mounting points and a slimmer, low profile belly pan.
This kit is the choice of Westby / Yamalube (Mat Scholtz), Attack Performance / Herrin Compound Yamaha (Josh Herrin), & Hudson Motorcycles (Bobby Fong), among many other top riders and teams.
Lacomoto race bodywork is exceptionally engineered and is extremely light, while remaining remarkably strong and flexible. All hardware mounting points are pre-drilled and all stress and mount areas are reinforced with carbon fiber. Kits come finished in a dull black / raw gelcoat. This kit does not come in a glossy finish shown in the photos.

This kit allows you to retain your OEM windscreen, or use most aftermarket units.
Kit includes:

- Nose
- Side Panels (2)
- Belly Pan
- Tail
- Undertail
- Seat Pan
- Front Fender
- Seat Foam
- All Hardware
- Airbox Cover
Note: Use the dropdown box above to select your exhaust type. Race exhaust selection will result in a slimmer belly pan that will not fit the OE catalytic converter.
Lacomoto's new FIM-legal upper has a location that allows use of headlight decals, to replicate the look of the OEM motorcycle more closely. This upper is FIM compliant.