Please Select Your Motorcycle
We will show you products that fit your motorcycle
AGV Pista GP RR ECE DOT Forged Carbon Fiber - Futuro Carbonio Forgiato / Elettro Iridium
(Typically ships in 2-3 days.)
AGV Pista GP RR ECE DOT Forged Carbon Fiber - Futuro Carbonio Forgiato / Elettro Iridium
AGV Pista GP RR ECE DOT Forged Carbon Fiber - Futuro Carbonio Forgiato / Elettro Iridium
Brands
AGV
Product Code:
216031D9MY008
Availability:
Typically ships in 2-3 days.
The helmet created for MotoGP™ is now available to every rider.

Pista GP RR is an exact replica of the AGV helmet used in races by professional world championship riders. It has therefore received FIM homologation, which certifies the highest possible level of protection, even against any dangerous twisting of the head. Every detail is designed to ensure ultimate performance. The Extreme Carbon shell in 100% carbon fiber guarantees extraordinary lightness, which make it effortless to wear. Its shapes and metal air vents are studied in the wind tunnel and tested by AGV athletes in order to ensure the best aerodynamic penetration and the greatest stability at high speeds, also as a result of the innovative profile of the rear PRO Spoiler. Boasting up to 5mm thickness, the optical class 1 Ultravision visor is an integral part of protection that enables 190° panoramic vision. This means the rider sees the track, adversaries, and obstacles more clearly, before anyone else. The exclusive 360° Adaptive Fit system allows for complete customization of the interior, giving the rider the possibility to select the ideal thickness for the upper part of the head, nape, and cheeks. Essential comfort that allows the rider to concentrate on the goal without distractions.

Every detail is designed with winning in mind.
FEATURES:
ACCESSORIES INCLUDED
Earplugs
Hydration system
Interiors customization kit: top crown pad, rear crown pad, cheek pads
Tear-off kit
Vents covers
AERODYNAMICS
Detachable PRO Spoiler
Race suit fitment
INTERIOR
2Dry: instant sweat absorption
3-piece adaptable crown pad fit
360° Adaptive fit
Cheek pads safety release system
Cheek pads: Shalimar fabric for soft and stable fit even at high speed
Crown pad: elastic and breathable microfiber
Embracing neck roll profile
Microsense: premium skin comfort
Neck roll: breathable fabric with elastic and waterproof inserts
No stitches in sensitive areas
Removable and washable interiors
Removable nose guard
Removable wind protector
Sanitized: antibacterial protection
RETENTION SYSTEM
SHELL
100% Carbon fiber
4 shell sizes
5-density EPS developed in 4 sizes
Collarbone safe profile
Shell and EPS structure designed to minimize rotational accelerations (FIM homologated)
VENTILATION
2 rear extractors
5 front vents
Metal air vents and extractors
VISOR
100% Max Vision Pinlock (120) included
190° horizontal field of view
5mm thickness
85° vertical field of view
Anti-scratch
Metal visor mechanism
Micro-opening system
Optic class 1
Patented Extra Quick Release System
Patented visor lock system
WEIGHT
1.450 g in first shell size
SIZE CHART:
| SIZE | XS | S | MS | ML | L | XL | XXL |
| --- | --- | --- | --- | --- | --- | --- | --- |
| HEAD CIRCUM. | 53-54 | 55-56 | 57-58 | 59-60 | 60-61 | 61-62 | 63-64 |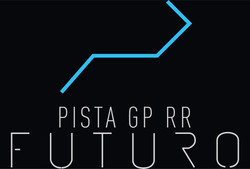 TOMORROW'S PERFORMANCE, TODAY
The MotoGP™ helmet now goes even faster, with a shell and Pro Spoiler in exclusive Carbonio Forgiato, and Elettro Iridium color details.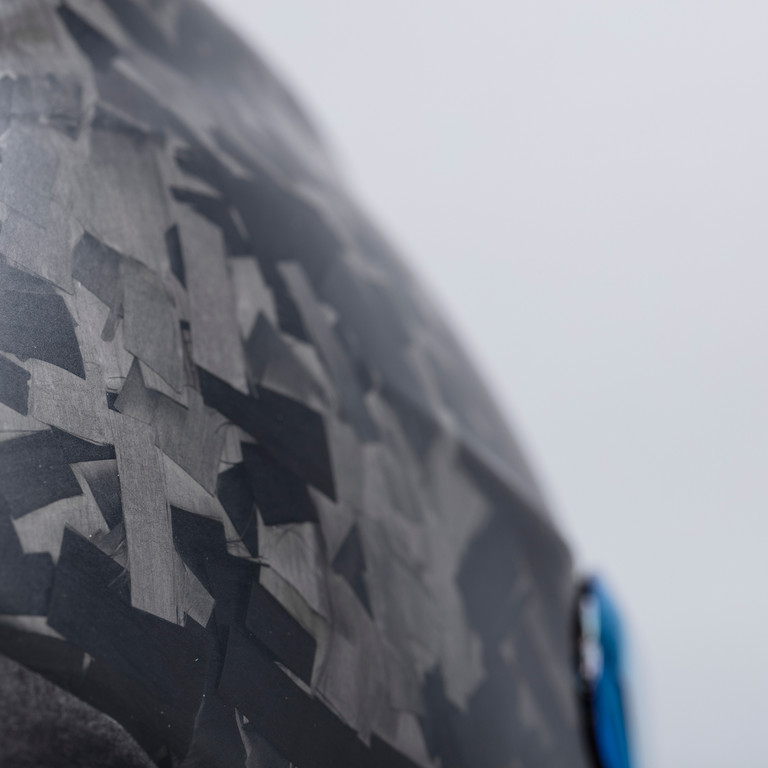 AGV CARBONIO FORGIATO
The higher density of this material with respect to woven carbon fiber, and its innovative construction of overlapping layers, mean that it guarantees greater energy absorption on impact, while maintaining the same overall weight for the helmet.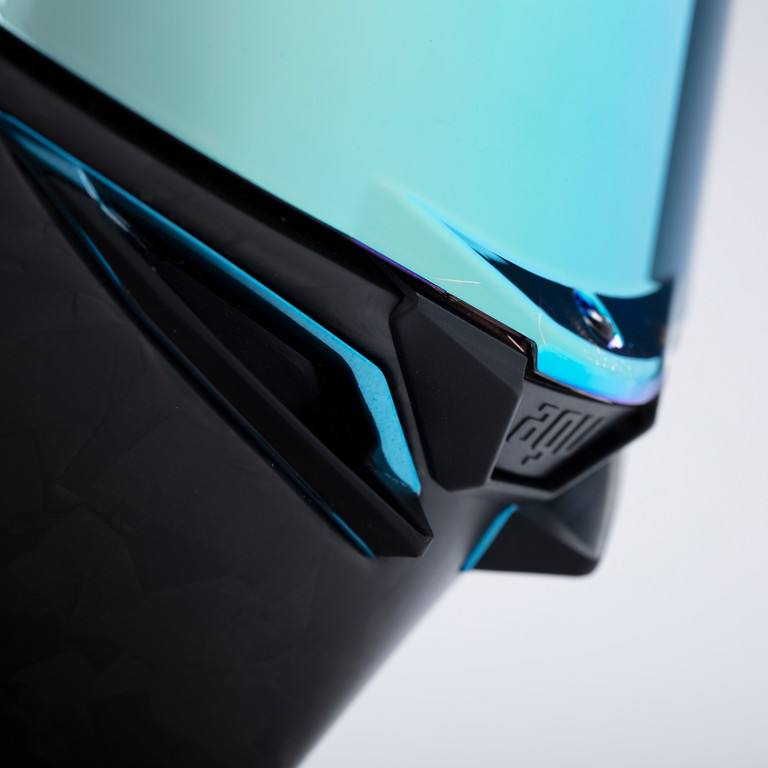 THE DESIGN OF THE FUTURE
The texture of Carbonio Forgiato with matt finish can never be replicated. It makes every shell and every Pro Spoiler a unique piece. The details and visor are in the unique Elettro Iridium color, and inspired by the silent, clean power that will define the future of transport.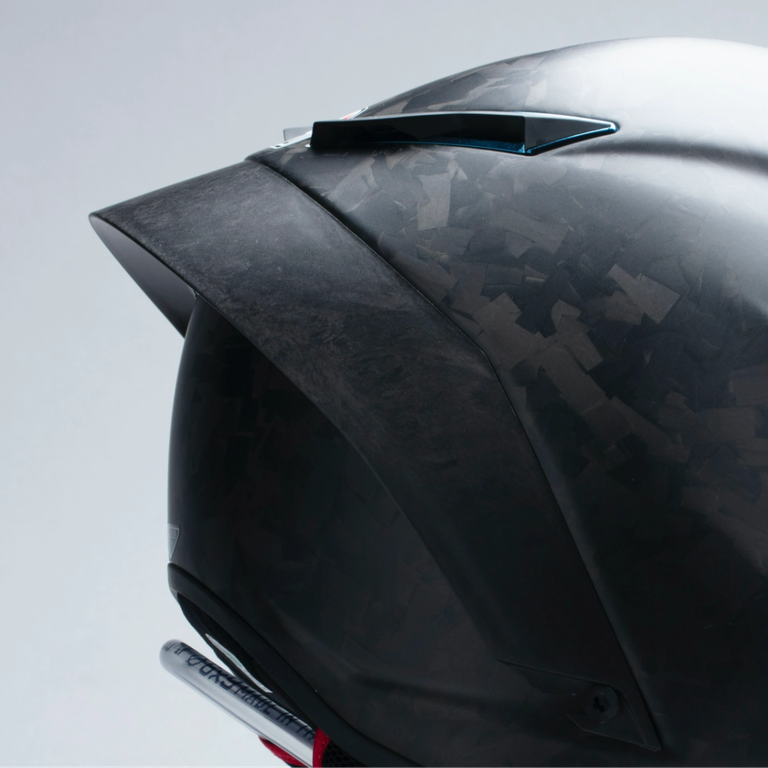 PRO SPOILER IN CARBONIO FORGIATO
AGV processing technology and the properties of this extraordinary material allow us to produce small and complex details like the Pro Spoiler, which is now even lighter and more resistant.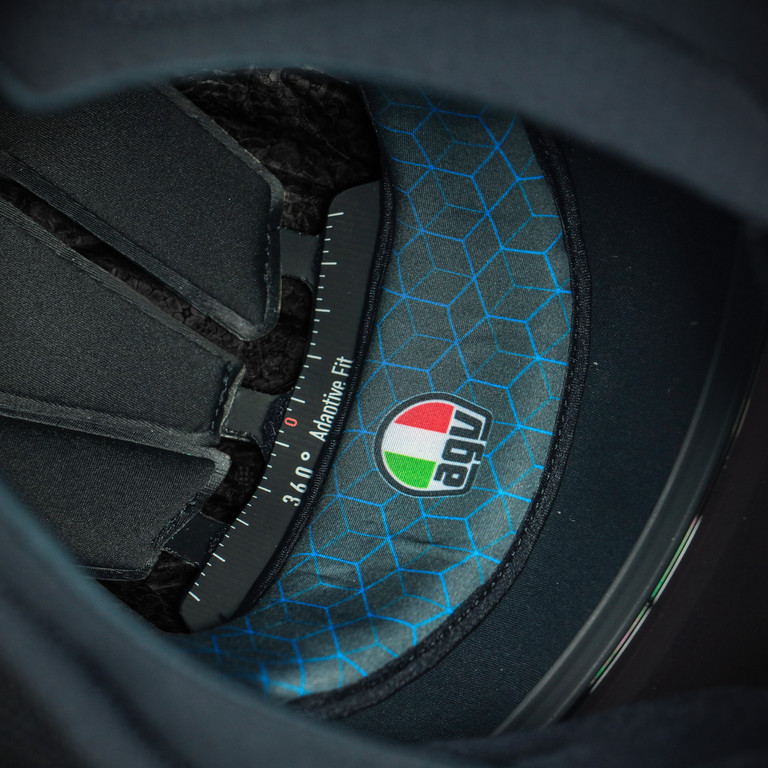 EXCLUSIVE INTERIORS AND 360° ADAPTIVE FIT SYSTEM
Dark grey microfibre fabric, with exclusive Elettro Iridium finishing. A fully customizable crown, cheek pads and neck for a tailor-made fit and phenomenal comfort. 17 different thicknesses for a unique helmet, to suit the rider's head and riding style.
DETAIL IS NOT AN OBSESSION, IT IS THE VERY ESSENCE OF PERFECTION.
2009-2017 Aprilia Dorsoduro
2021+ Aprilia RS660
2009-2014 Aprilia RSV4
2015-2018 Aprilia RSV4
2019-2020 Aprilia RSV4
2021- Aprilia RSV4
2018-2020 Aprilia SR 50 R
2021+ Aprilia Tuono 660
2015-2020 Aprilia Tuono V4
2017-2020 BMW HP4 Race
2013-2018 BMW R 1200 GS
2015-2016 BMW R 1200 R / R 1200 RS
2014-2019 BMW R nineT
2014-2016 BMW R1200RT
2009-2014 BMW S1000RR
2015-2018 BMW S1000RR
2019-2022 BMW S1000RR / M1000RR
2015-2020 BMW S1000XR
2020 Brixton Cromwell 250
2020 Brixton Felsberg 250
2018-2019 Brixton Glanville 250
2019 Brixton Saxby 250
2002-2007 Buell XB9R / XB12R Firebolt
2007-2009 Ducati 1098
2009-2014 Ducati 1198
2008-2013 Ducati 848
2008-2016 Ducati Desmodesdici
2007-2012 Ducati Hypermotard
2012-2014 Ducati Panigale 1199
2015-2018 Ducati Panigale 1299
2013-2015 Ducati Panigale 899
2016-2018 Ducati Panigale 959
2018-2022 Ducati Panigale V4 / V4 R / Superleggera
2015-2021 Ducati Scrambler Full Throttle
2015-2021 Ducati Scrambler Icon
2015-2021 Ducati Scrambler Sixty2
2020-2021 Ducati Streetfighter V4
2019-2020 Honda CBR 500R
2004-2005 Honda CBR1000RR
2006-2007 Honda CBR1000RR
2008-2011 Honda CBR1000RR
2017-19 Honda CBR1000RR
2012-2016 Honda CBR1000RR
2020-2022 Honda CBR1000RR-R
2009-2020 Honda CBR600RR
2003-2004 Honda CBR600RR
2005-2006 Honda CBR600RR
2007-2008 Honda CBR600RR
2020 Honda CMX 500 Rebel
2020-2021 CRF1100L Africa Twin
2014-2015 Honda Grom
2021-2022 Honda Grom
2017-2020 Honda Grom MSX125
2016-2019 Honda Grom SF
2019+ Honda Monkey 125
2000-2006 Honda RC51 SP1/SP2
2020- Honda SH 125/150
2019-2020 Husqvarna 701 Supermoto
2020- Husqvarna FE 450
2015-2018 Kawasaki Ninja H2 / SX / SE
2020 Kawasaki KX450F
2011-2019 Kawasaki Ninja 1000
2008-2012 Kawasaki Ninja 250R
1988-2007 Kawasaki Ninja 250
2013-2017 Kawasaki Ninja 300R
2018-2020 Kawasaki Ninja 400
2006-2008 Kawasaki Ninja 650R
2009-2011 Kawasaki Ninja 650R
2017-2019 Kawasaki Ninja 650
2012-2016 Kawasaki Ninja 650
2014-2016 Kawasaki Vulcan S 650
2017-2020 Kawasaki Vulcan S 650 / Cafe
2020-2021 Kawasaki Z H2
2011-2018 Kawasaki Z1000
2017-2018 Kawasaki Z125 Pro
2017-2020 Kawasaki Z900RS
2011-2015 Kawasaki Ninja ZX-10R
2004-2005 Kawasaki Ninja ZX-10R
2006-2007 Kawasaki Ninja ZX-10R
2008-2010 Kawasaki Ninja ZX-10R
2021-23 Kawasaki ZX-10R / ZX-10RR
2016-2020 Kawasaki Ninja ZX-10R / ZX-10RR
2012-2018 Kawasaki Ninja ZX-14R
2006-2011 Kawasaki Ninja ZX-14
2013-2018 Kawasaki Ninja ZX-6R
1998-2002 Kawasaki ZX-6R
2007-2008 Kawasaki Ninja ZX-6R
2019-2022 Kawasaki Ninja ZX-6R
2005-2006 Kawasaki Ninja ZX-6R
2009-2012 Kawasaki Ninja ZX-6R
2020 KTM 1290 SuperDuke R
2020 KTM 390 Adventure
2019-2022 KTM 690 SMC R
2020-2022 KTM 890 Duke R
2020 KTM 890 SuperDuke R
2013-2019 KTM Duke 390
2020 KTM EXC 450 F
2014-2020 KTM RC390
2008-2016 KTM RC8
2020- KTM SX 125
2017-2020 Moto Guzzi V7 Cafe Classic
2009-2012 Moto Guzzi V7 Cafe Classic
2017-2020 Moto Guzzi V7 III
2012-2018 MV Agusta Brutale 675
2015-2018 MV Agusta Brutale 800
2014-2021 MV Agusta Dragster 800
2011-2018 MV Agusta F3 675
2011-2018 MV Agusta F3 800
1999-2004 MV Agusta F4 750
2013-2016 MV Agusta Rivale
2015-2016 MV Agusta Stradale 800
2019-2021 MV Agusta Superveloce
All Offroad, Supermoto, Enduro or Motocross
2007-2008 Suzuki GSX-R1000
2012-2016 Suzuki GSX-R1000
2009-2012 Suzuki GSX-R1000
2001-2002 Suzuki GSX-R1000
2017-2022 Suzuki GSX-R1000 / 1000R
2003-2004 Suzuki GSX-R1000
2005-2006 Suzuki GSX-R1000
2006-2007 Suzuki GSX-R600
2001-2003 Suzuki GSX-R600
2004-2005 Suzuki GSX-R600
2008-2010 Suzuki GSX-R600
2011-2022 Suzuki GSX-R600
2011-2022 Suzuki GSX-R750
2006-2007 Suzuki GSX-R750
2008-2010 Suzuki GSX-R750
2004-2005 Suzuki GSX-R750
2017-2020 GSX-S / GSX-R 125
2015-2020 Suzuki GSX-S 1000
2015-2020 Suzuki GSX-S 750
2008-2018 Suzuki Hayabusa
1999-2007 Suzuki Hayabusa
2019-2020 Suzuki Katana
1999-2002 Suzuki SV650 / S
2003-2012 Suzuki SV650 / S
2017-2019 Suzuki SV650
1999-2003 Suzuki TL1000R
2013-2018 Triumph Daytona 675 / 675R
2006-2012 Triumph Daytona 675 / 675R
2011-2015 Triumph Speed Triple
2016-2018 Triumph Speed Triple
2013-2016 Triumph Street Triple 675
2007-2012 Triumph Street Triple 675
2017-2018 Triumph Street Triple 765
2020+ Triumph Street Triple 765 RS
2014-2021 Yamaha FZ-07 / MT07
2013-2016 Yamaha FZ-09 / MT-09
2017-2019 Yamaha FZ-09 / MT-09
2016-2020 Yamaha FZ-10 / MT-10
2006-2012 Yamaha FZ1
2017-2020 Yamaha SCR 950
2019-2020 Yamaha Tenere 700
2020-2021 Yamaha Tracer 700
2016-2019 Yamaha XSR700
2016-2019 Yamaha XSR900
2014-2016 Yamaha XV 950 R
2020-2021 Yamaha YZ450F
2015-2019 Yamaha YZF-R1
2000-2001 Yamaha YZF-R1
2002-2003 Yamaha YZF-R1
2004-2006 Yamaha YZF-R1
2007-2008 Yamaha YZF-R1
2009-2014 Yamaha YZF-R1
2020-2023 Yamaha YZF-R1
1998-1999 Yamaha YZF-R1
2015-2020 Yamaha YZF-R3
2008-2016 Yamaha YZF-R6
1998-2002 Yamaha YZF-R6
2017-2020 Yamaha YZF-R6
2003-2005 Yamaha YZF-R6
2006-2007 Yamaha YZF-R6
2020-2023 Yamaha YZF-R7
2000 Zonkador SuperGP